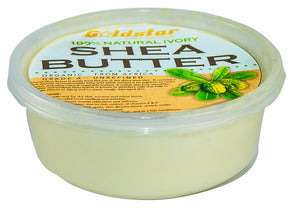 How to use Goldstar Unrefined Shea Butter for your Hair and Skin
Goldstar Unrefined Shea Butter is derived from the nuts of the shea-karite tree.  Goldstar shea butter contains high amounts of fatty acids with healing properties, reports the American Shea Butter Institute.  Goldstar shea butter remains solid at room temperature and melts into the skin when it comes in contact with body heat.
Goldstar Shea Butter for your beautiful hair
First Step
Apply Goldstar unrefined shea butter to your scalp for deep conditioning.  Use your fingertips to massage the shea butter into your scalp, paying close attention to the nape of your neck, around your hairline and behind your ears.  Continue massaging for about 10 minutes.  Run the Goldstar shea butter through your hair ends using a wide-toothed comb when the massage is complete.
Final Step
Wrap your hair in a towel or plastic shower cap and allow the Goldstar shea butter to sit on your scalp for another 10 minutes. Make sure to rinse Goldstar shea butter from your hair after the 10-minute waiting period, using a cool water rinse.  You can then shampoo and condition your hair as normal.
Goldstar Shea Butter for your skin
First Step
Wash the skin of your face and body with warm water and a mild soap.  Rinse the soap from your skin with a cool water rinse.  Pat your skin dry with a towel.  Apply Goldstar shea butter to the skin of your face and body using your fingertips.
Final Step
Massage Goldstar shea butter into your skin using circular motions.  As you massage, the heat of your body will melt Goldstar shea butter, increasing its absorption into your skin.
---