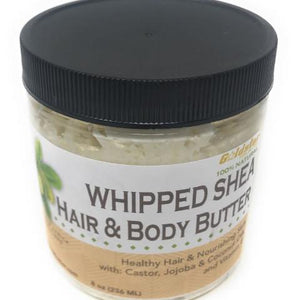 Seven reasons why Goldstar Whipped Shea Butter is perfected for your hair and body
1. Quality ingredients
We used quality ingredients including Jojoba Oil, Coconut Oil, Castor Oil and Vitamin E and whipped to perfection.
2. Variety Pack
It comes in variety pack to choose from. The ore you buy the more you save.
3. Perfect Gift
We made Goldstar Whipped Shea butter for a perfect gift to family and friends so you can surprise them.
4. It is smooth
Goldstar Whipped shea butter is whipped to perfection and it is smooth for easy application to your hair and body
5. Ready to use
How nice you don't need to do anything. You simply open Gloldstar Whipped Shea Butter and start using it. Enjoy!
6. Hair and body
Goldstar shea butter can be used for your hair and body.
7. 10% Discount
Use code "whipped" and get 10% off on all our whipped shea butter products. 
---